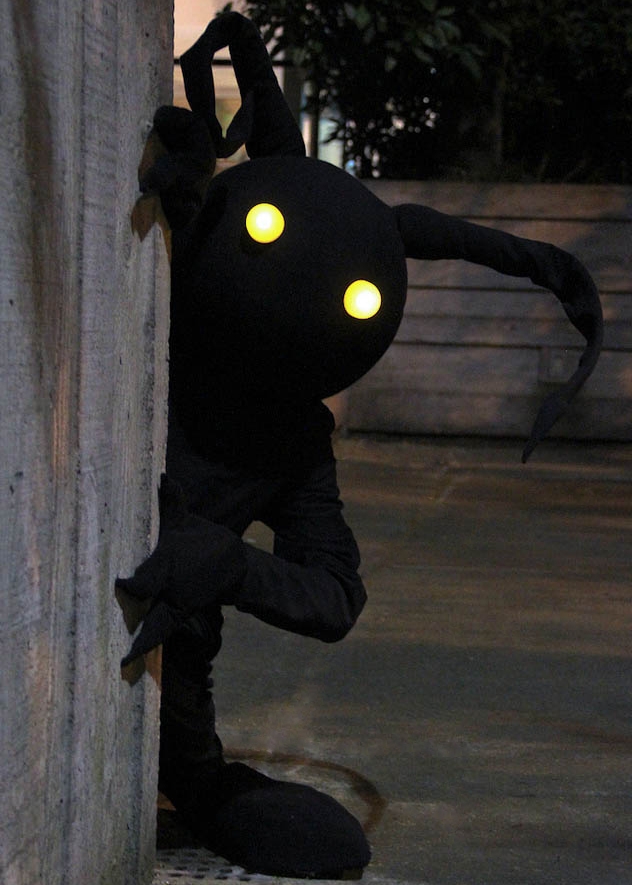 Version: Shadow
Series: Kingdom Hearts
Year Made: 2011
About:
Heartless are so cute!
The Arda Gals and I found some glowy eye lights when we were at IKEA and from there I decided to do a Shadow costume. The head is an extra large hamster ball with padding to make it smooth. The hands and feet have couch cushion foam to get the right shape.
Photos: Rexdart, Heidi, Ed Komenda & LJinto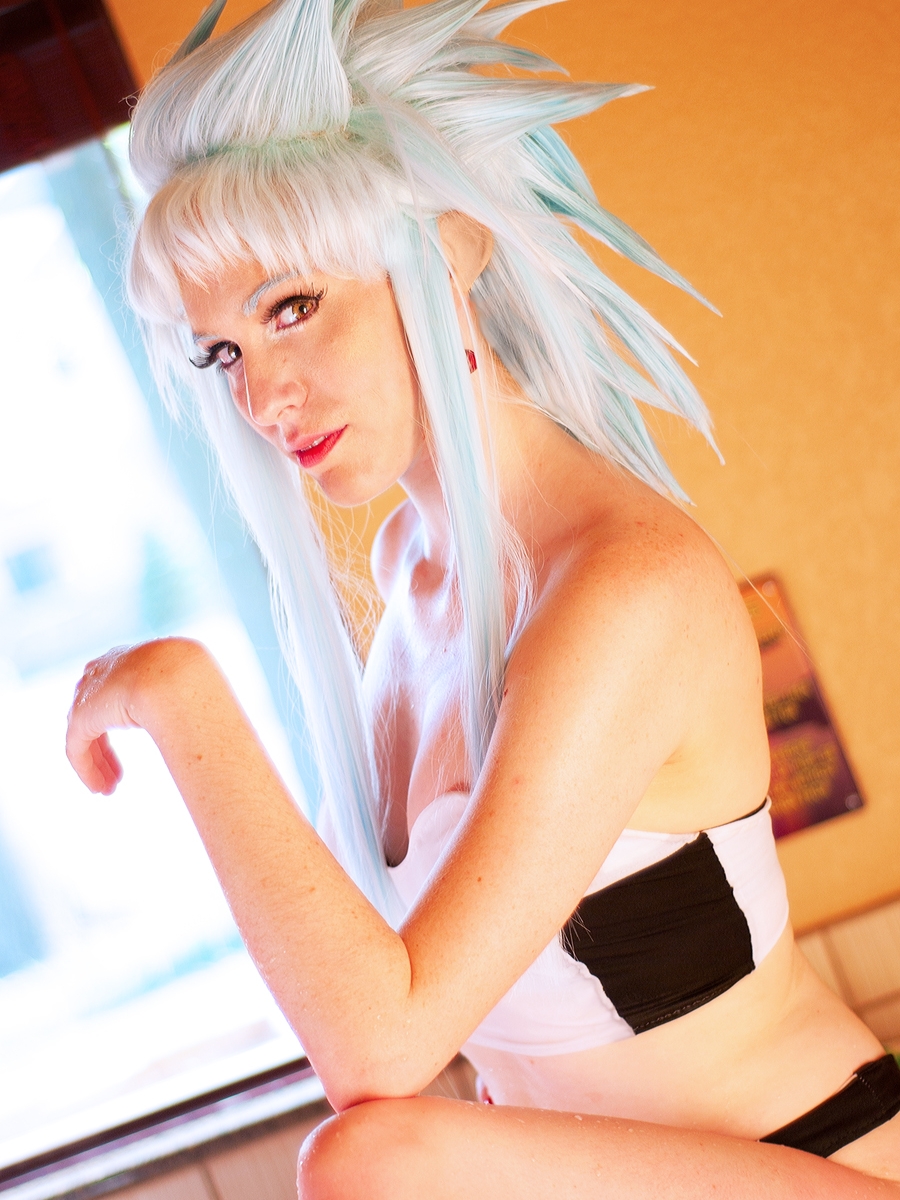 Version: Swimsuit
Series: Tenchi Muyo!
Year Made: 2012
About:
If I was an anime character, I would be Ryoko.
First ever swimsuit I've ever made. Altered eyelashes to get her animu eyes. Wig is two Pale Aqua Jareth's from Arda Wigs with some extra wefts.
Can I be Ryoko all the time please?

Photos: Elemental Photography & Swoz Photography
Series: Pokemon
Year Made: 2011
About:
When I was little having sick days from school were always made better by Pokemon. Misty was a great role model, she never took shit!
Altered shirt, made the suspenders myself. Shoes were painted knock off chucks. Wig is a VERY ALTERED Ferrari in Pumpkin from Arda Wigs. I believe some of the middle wefts were taken out to make the hairline more realistic.
Photos: Yui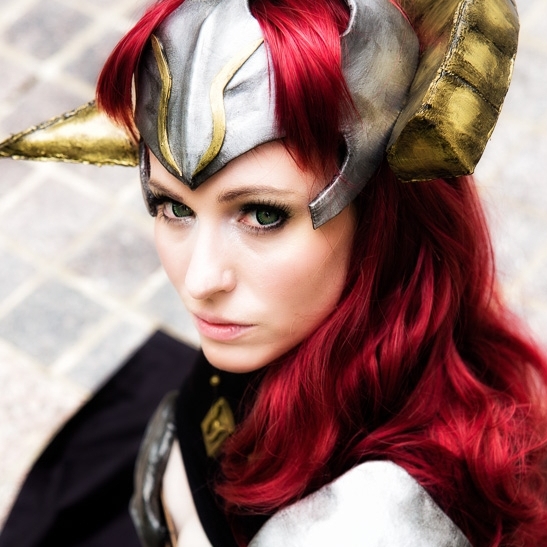 Series: Queen's Blade
Year Made: 2013
About:
I wanted to cosplay with the wonderful Kapalaka for a very long time and she suggested a character she thought I'd like so I jumped on board!

The armor is foam covered in fabric and I dry brushed on black for a more tarnished look. The wig is a Maroon Luthien from Arda Wigs. The shoes were altered from ankle boots.
Photos: AnimazeGuy, Bentpic, MindfallMedia, Cory Paul and Talithia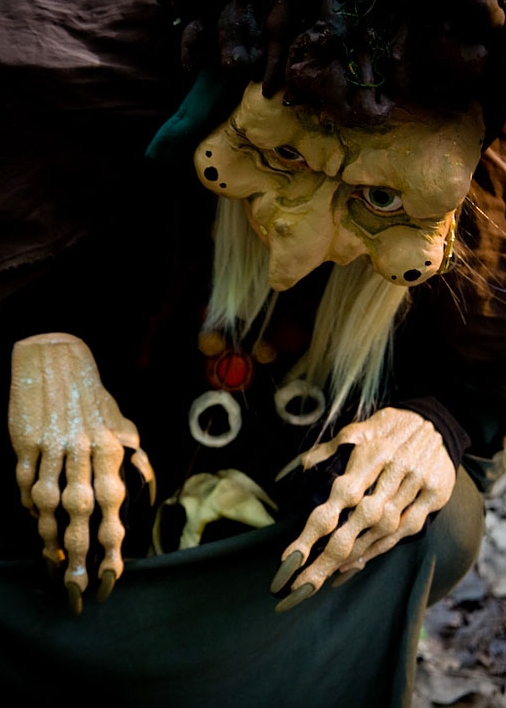 Series: The Last Unicorn
Year Made: 2009
About:
The Last Unicorn was my favorite movie growing up. My mom said she used to have nightmares about Mommy Fortuna's voice.
Mask is paper mache mixed with hair dry clay for the nose and cheeks. The tree stump is expanding foam sprayed onto felt draped around a wire base. The hands were a Halloween store find and the necklace is made from air-dry clay as well. The shoulders have foam in them in order to achieve her silhouette. Crow is named Steve.
Photos: Elemental Photography
Awards: Hallway Judge's Choice Anime Central 2009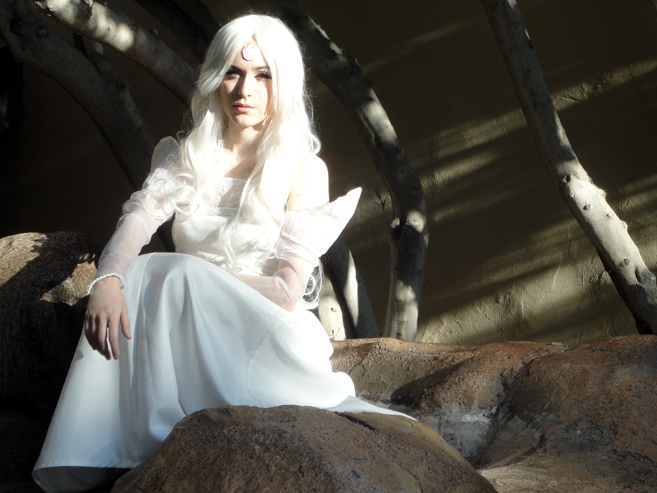 Version: Graphic Novel
Series: The Last Unicorn
Year Made: 2012
About:
Because I love the Last Unicorn I wanted to cosplay Amalthea. I loved the version of her in the Graphic Novel so I challenged myself.
I hand embroidered all the lace by myself. My first time doing anything like it. Because it was a very long process the dress hasn't actually be completed, but I wore what I could of it for a few photos.
Wig is a Luthien in Silver from Arda Wigs. The flame scare on my forehead is foam.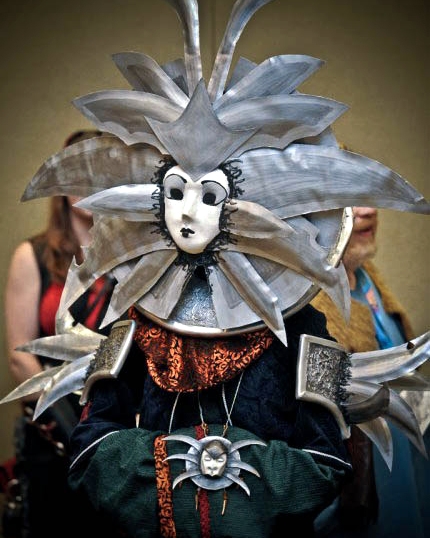 Version: Tony Diterlizze
Series: Dungeon & Dragons: Planescape
Year Made: 2012
About:
Planescape is the best champaign setting in D&D ever. The Lady of Pain is an amazing entity in the city at the center of the planes.
I wanted to stay as true to Tony's work as possible. All the blades were made from poster cardboard and foam. Over 2k glue sticks were used. Made the hoop skirt myself.
Photos: Random wonderful Folks at GenCon 2009
Awards: Won 2nd Place Best Fantasy/Historical GenCon 2009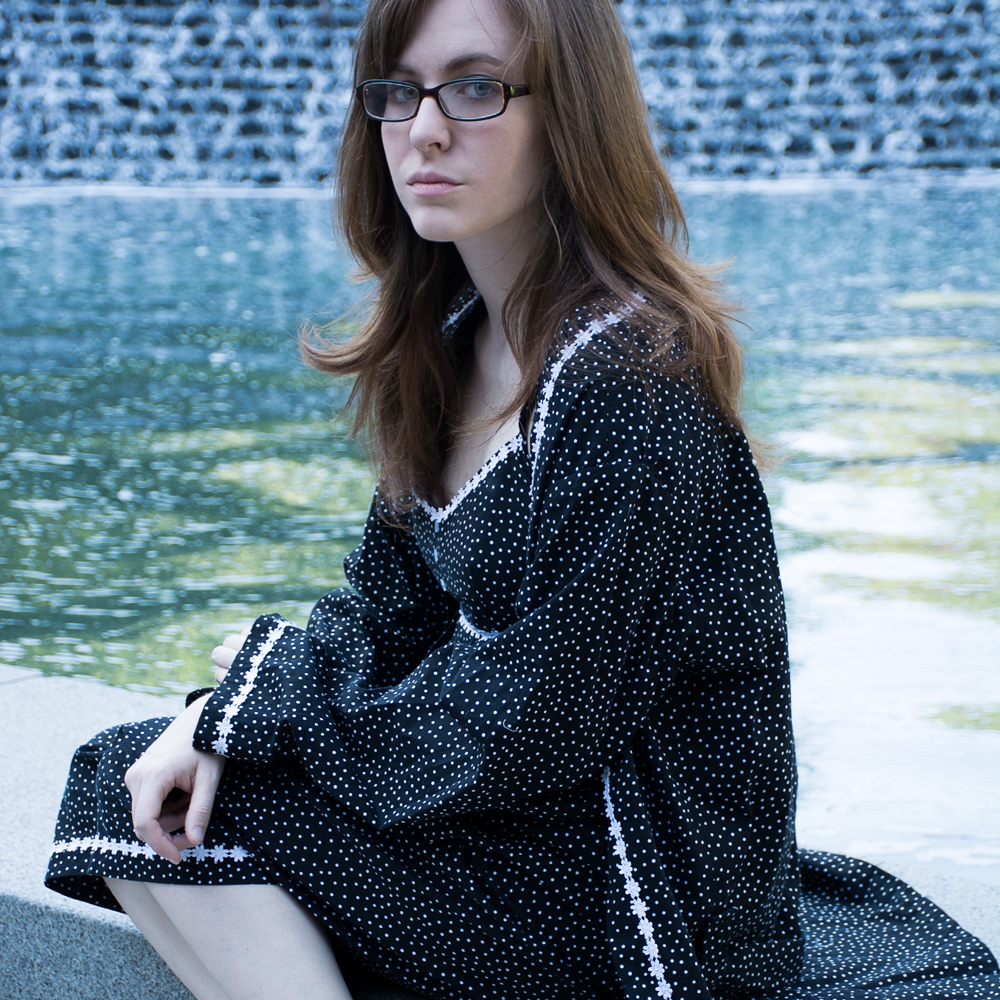 Version: Pajamas (Episode 21 Season 4.5 Daybreak)
Series: Battlestar Galactica
Year Made: 2012
About:
Laura Roslin is my "space mom" and I loved the flashback we got in Daybreak. When I was shopping at Joann's one day I found fabric PERFECT for her pajamas in that scene.
The owner of the costume helped me with little details so this is one of my most perfectly screen accurate costumes.
Photos: Mindfall Media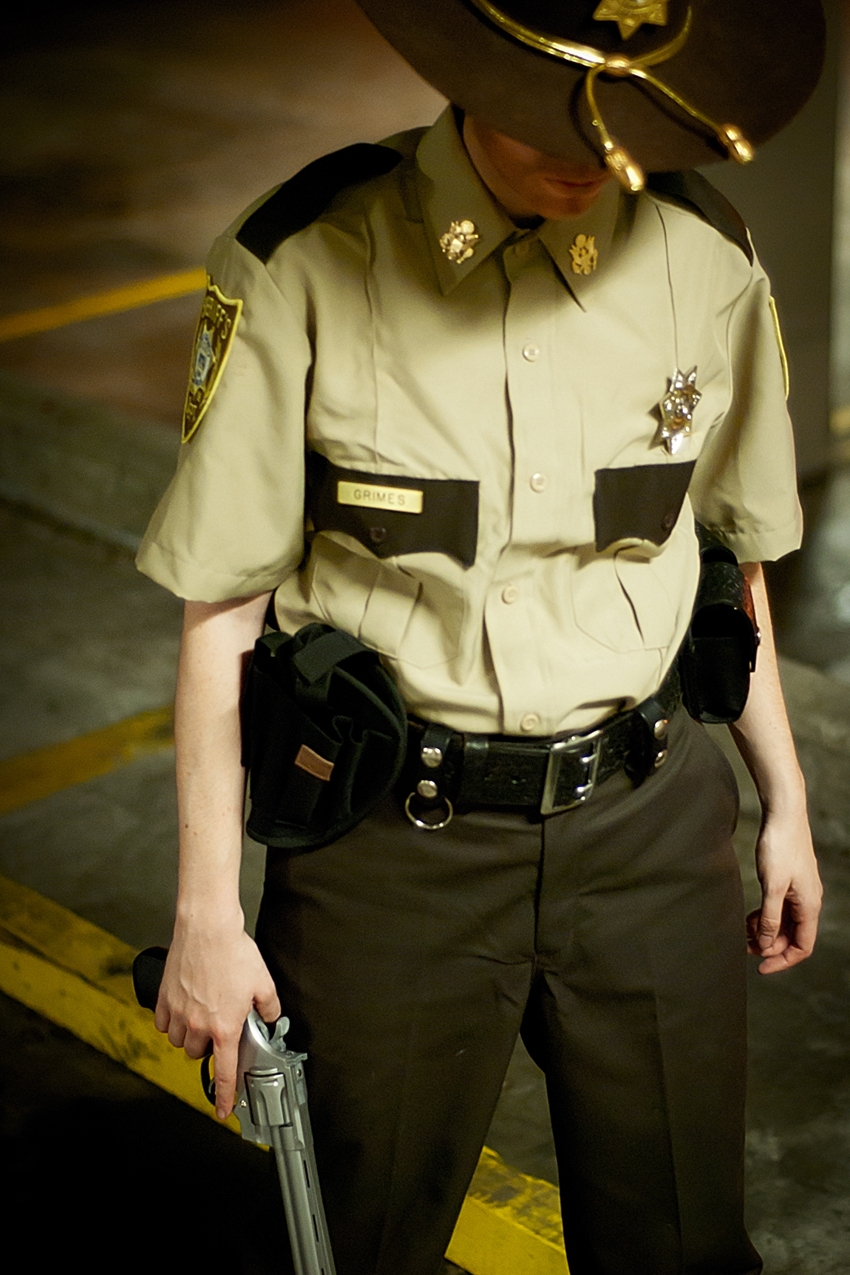 Version: Season 1
Series: The Walking Dead
Year Made: 2012
About:
Rick Grimes... will you marry me?
When I first did this costume I did some REALLY in-depth research on the actual stores they bought his costume from and originally I had links to that all. Unfortunately the passing of time has made me loose that. The only thing not accurate is the holster, because sling holsters as EXPENSIVE. Sorry guys.
Photos: Swoz Photography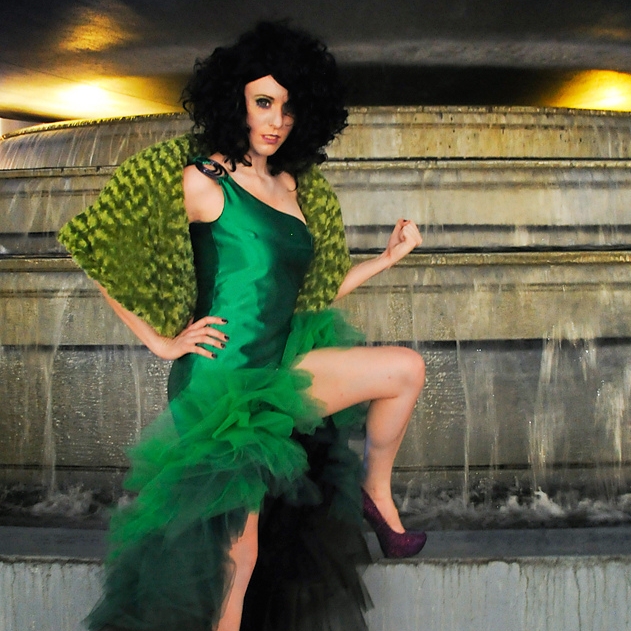 Version: Ball Gown
Series: Avengers
Year Made: 2012
About:
ToughTink's representations of all the characters in the Avengers were so beautiful we really wanted to make them. I have always loved Bruce, so Hulk seemed like the best option.
There is 20+ yards of tulle in the skirt and that look a majority of the time to complete. Wig is a Black Glinda from Arda Wigs. I still have those shoes and I love them.
Photos: Judy Stephens, LJinto and Lionboogy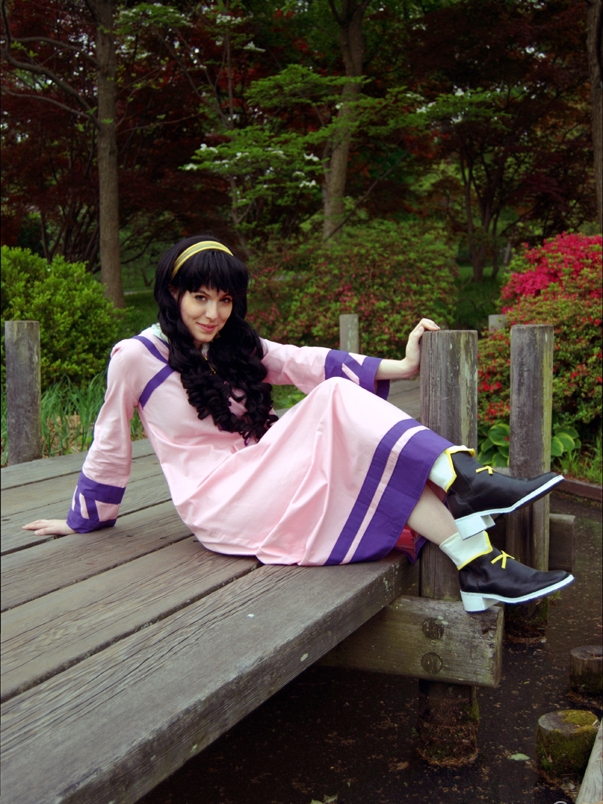 Series: Lunar: Silver Star Story Complete
Year Made: 2010
About:
The characters in Lunar are all so great and adorable in their own ways. Mia is no exception. She quiet, but powerful!
Pretty straight forward costume, but my first time top stitchin on a pattern. I was pretty happy with how it all turned out
The wig is a Claudia in Black from Arda Wigs.
Photos: Sailor Gaia, The Enthusiasts & Ed Komenda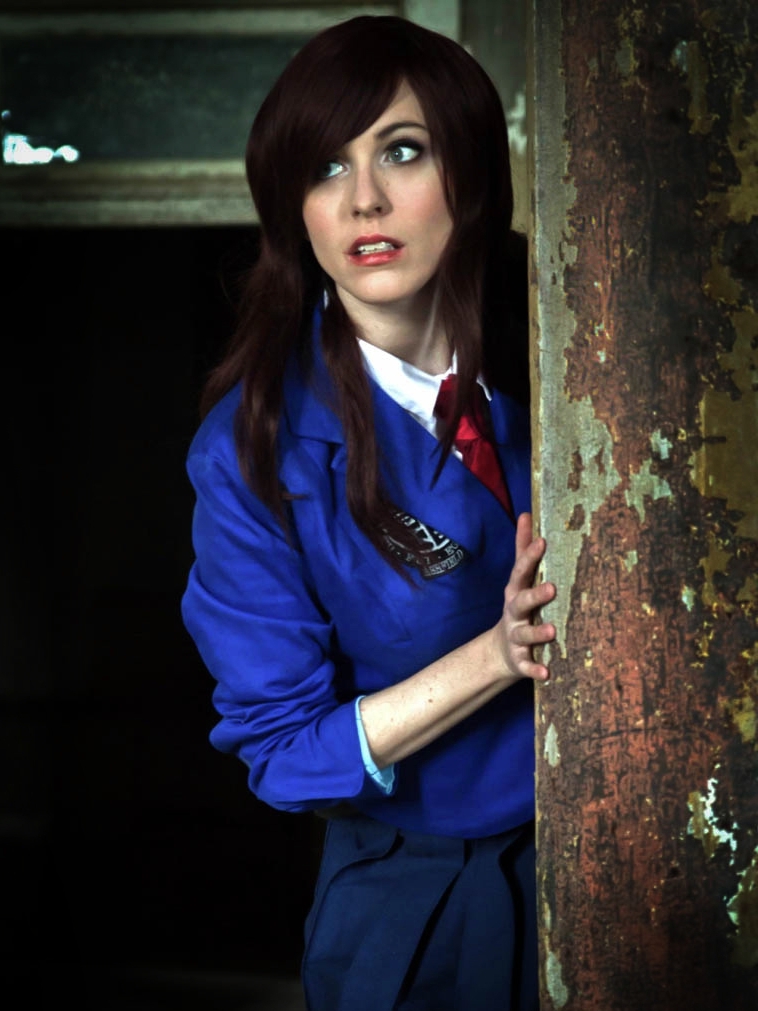 Series: Silent Hill: Book of Memories
Year Made: 2013
About:
First time making a school uniform and making a tie. Loved making a tie. The patch is made up the best I could and I asked the devs what it said. What I ended up writing is what they said was official, sooo, I guess I made up lore?
I also made the book that I'm really proud of. Its a modded Call of Cthulhu book.
Photos: Swoz & Sarah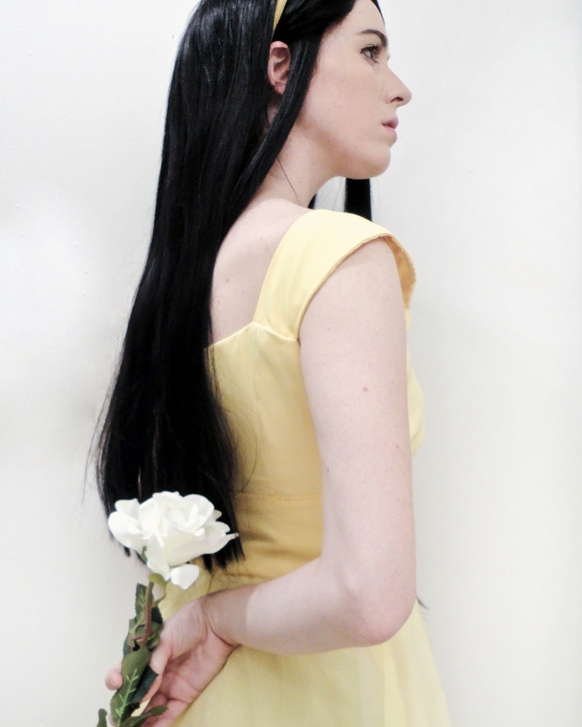 Version: Candlelight Dress
Series: The Hunger Games
Year Made: 2012
About:
I read the book before I saw the movie. This dress is based on the book description of the dress from the end of the 1st book.
A really simple costume because I wanted to have a costume when I first went to see the movie. It has lots of little hidden sparkles in it and its super comfortable to wear.

Photos: Dragoon3060
Series: Baccano!
Year Made: 2010
About:
Give me a prohibition drama with supernatural elements and I'm into your story. Firo is my kinda dude; sharply dress, Irish with the relaxes of a cat!
This suit was a good find. Not only did it fit my small girl frame, the persons name embroidered into the inside pocket also has the same last name. This costume was very much a test in learning how to crossplay. Wig by Airily.
Photos: Ed Komenda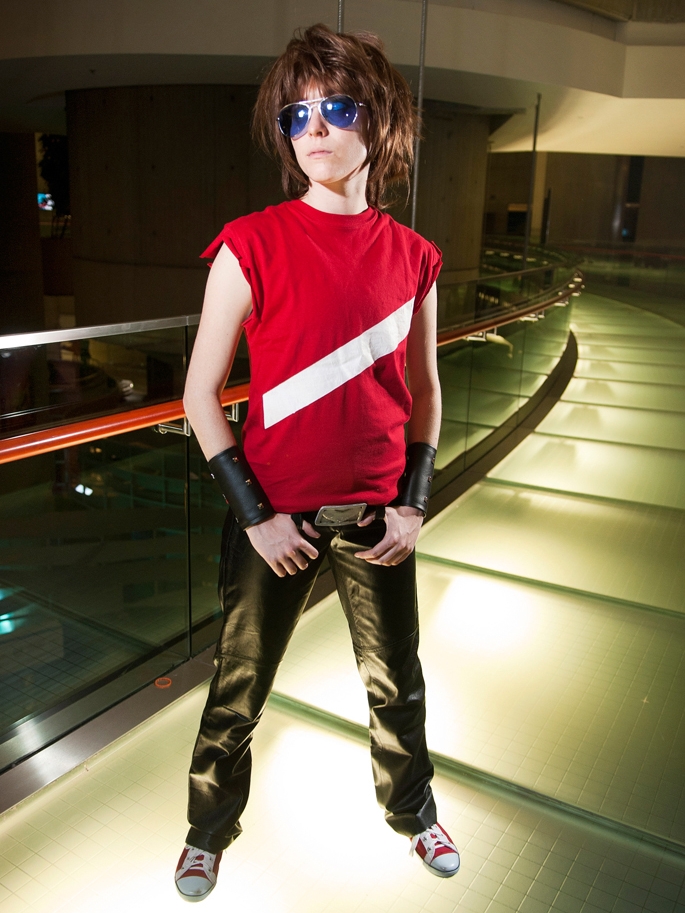 Version: Human
Series: Interstella 5555: The 5tory of the 5ecret 5tar 5ystem
Year Made: 2010
About:
Daftpunk is Amazing. Interstella is amazing.
Those leather pants actually went up to my natural waist, the belt is a fake waistline I made further down. I made everyone's belt buckles out of foamie and priming spray.
Photos: Kevin Chan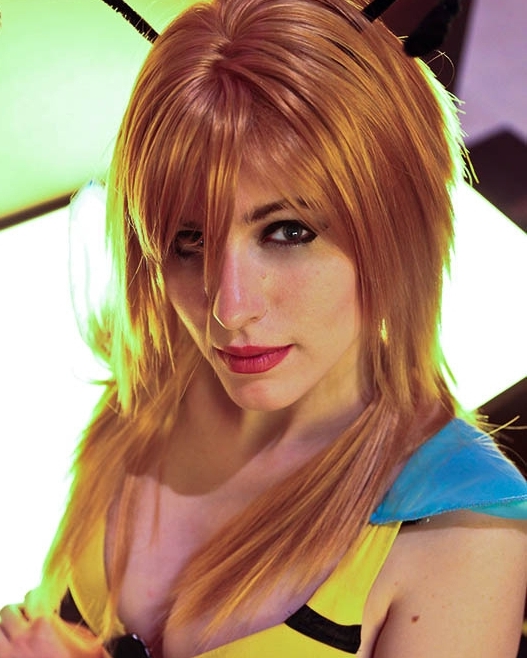 Series: Final Fantasy 7
Year Made: 2010
About:
Final Fantasy 7 will always have a special place in my heart as the first JRPG I finished. I loved its story and characters, but in 2010 I wasn't sure I could do the characters justice yet, so I decided to do a small little tribute with a Honey Bee.
Made mostly from a bra and black spanks, I added a kids play ball to the butt covered in stripes and a funnel for the stinger and I was set to help people into their hotel rooms. Po' Po'
Photos: Consplayers Doug & Deathcom Tim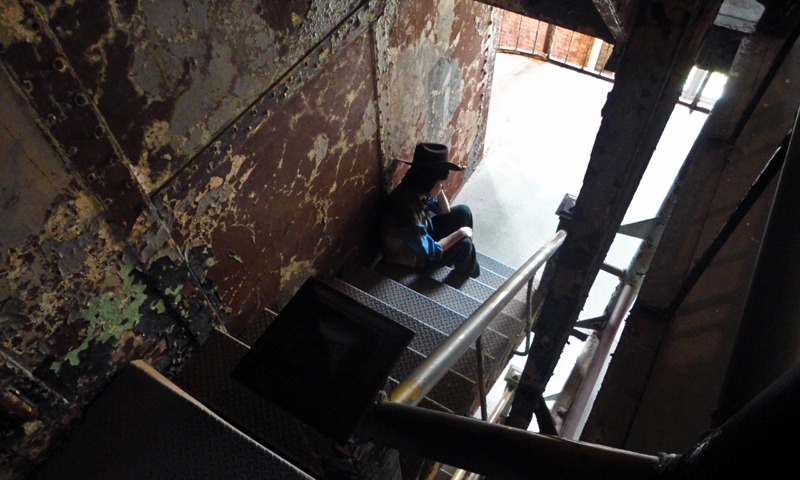 Version: Season 3.5 Promo
Series: The Walking Dead
Year Made: 2013
About:
We were taking photos at a prison during Season 3 of Walking Dead... how could I not cosplay this little shit.
Just kidding. I love you Coral.

Photos: Miri & Fey
Version: "Girlycard"
Series: Hellsing
Year Made: 2011
About:
Big fan of Hellsing, especially Alucard. He's so sassy and I love the gloomy-ness of the Manga as well as the 'Ultimate' version of the anime. 'Girlycard' is the peak of his sass.
The jacket and suit is all made by me and my first attempt at making anything like it. Boots were painted, every crazy button detail was added. I was so proud of this costume, but sadly never got many photos.
I also pieced together the Walter costume pictured here.

Photos: Talitha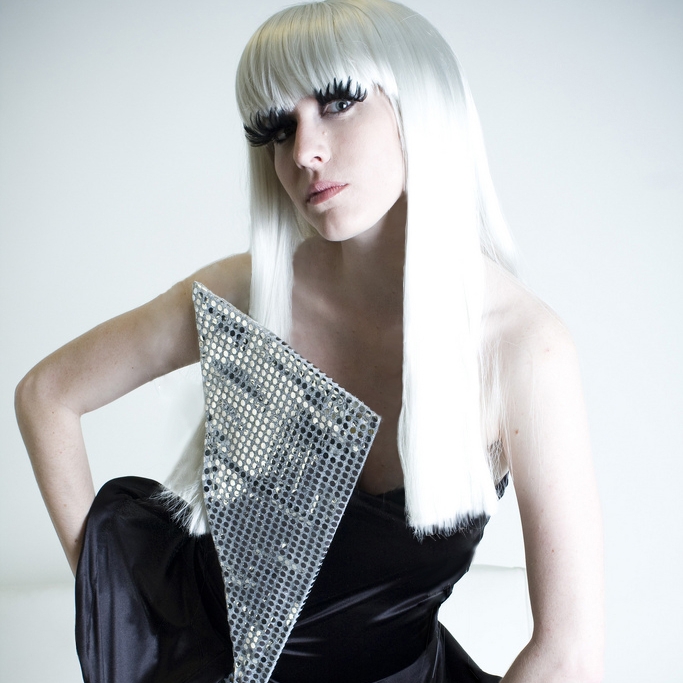 Version: Mirror Dress
Year Made: 2009
About:
I LOVE GAGA! What an entertainer. She's all about the performance and she has the talent to back it up.
I wanted to make a dress of her's to go to all the convention dances. I made this costume using materials I had laying around. Spandex, hanger wire, ect.
I made all the props at the shoot.
Photos: Anna Photography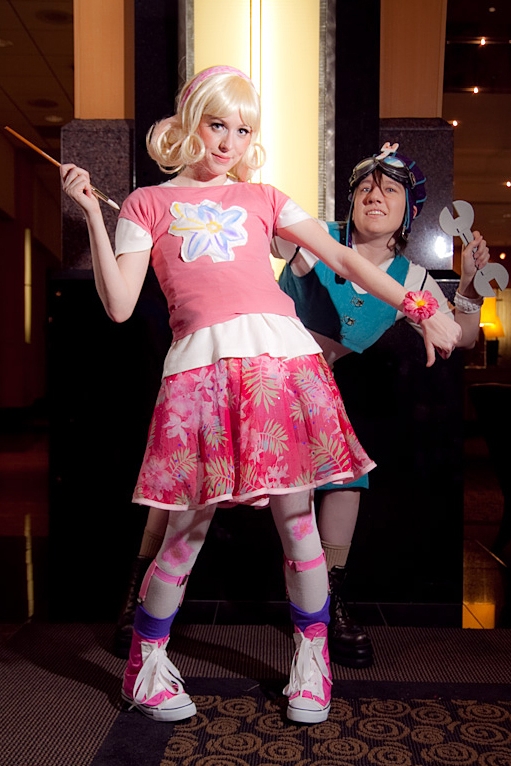 Series: SaGa Frontier
Year Made: 2009
About:
SaGa Frontier was a kick ass game in the 90s with tons of different stories. Rosemary and her brother helped a robot. People who help robots are pretty cool in my book.
Because I loved the artists work with watercolor I wanted to make sure I kept that a main part of the costume. Making the flower from a water color fabric paint and the flowers on her knees the same. The curls in the wig stay that way because of some wire. Sae surprised me and made Rose's brother.

Photos: Elemental Photography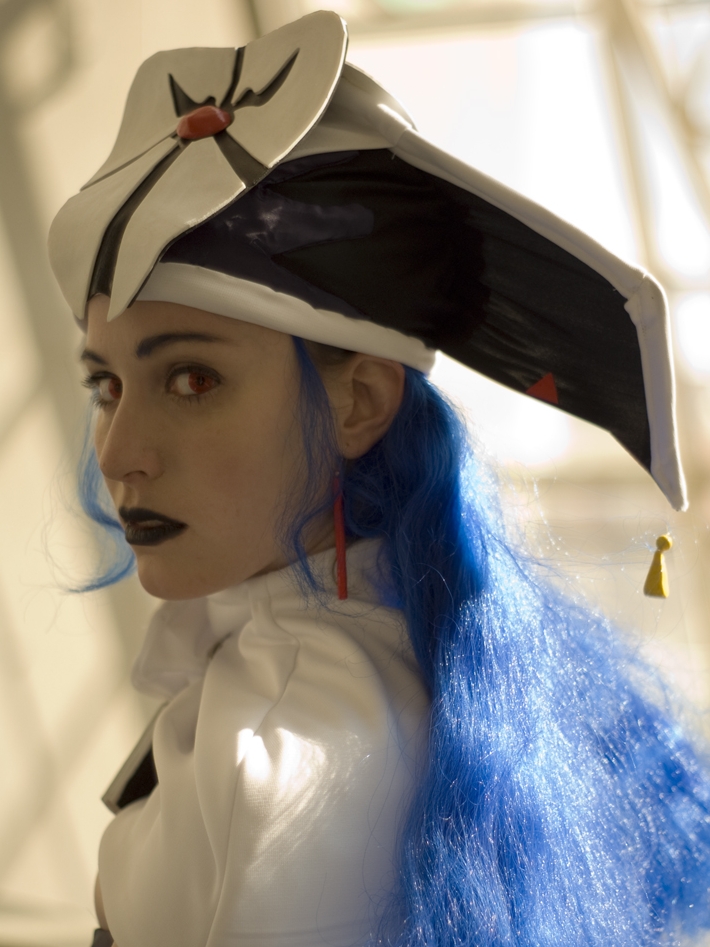 Series: Lunar: Silver Star Story Complete
Year Made: 2009
About:
Nothing gets me more excited than a tragic villain, so I love me some Dark Goddess Althena. Evil in black lipstick!
This was my first costume making armor and it was all bad priming foamies and covering it in modpodge for the shine. I put a sewing machine needle through my finger finishing the cape.
Photos: Elemental Photography & 4ng3l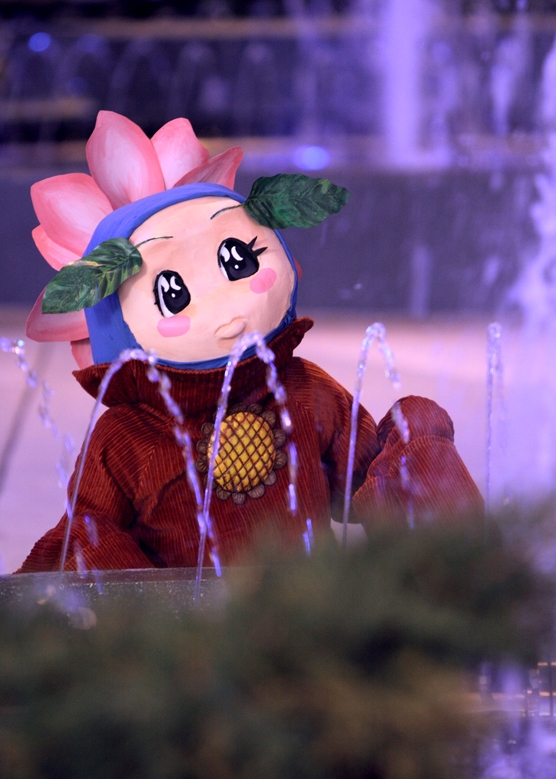 Series: Chrono Cross
Year Made: 2009
About:
There was gonna be a group of Chrono Cross cosplayers at Anime Central 2009 and I wanted to be involved!
NeoFio was my first attempt at a mascot costume. The face is made of paper mache and paperclay with cushion foam to make the rounded part of the head. The petals are painted bridal interfacing. The sunflower brooch is air-dry clay.
Photos: Elemental Photography & Zer0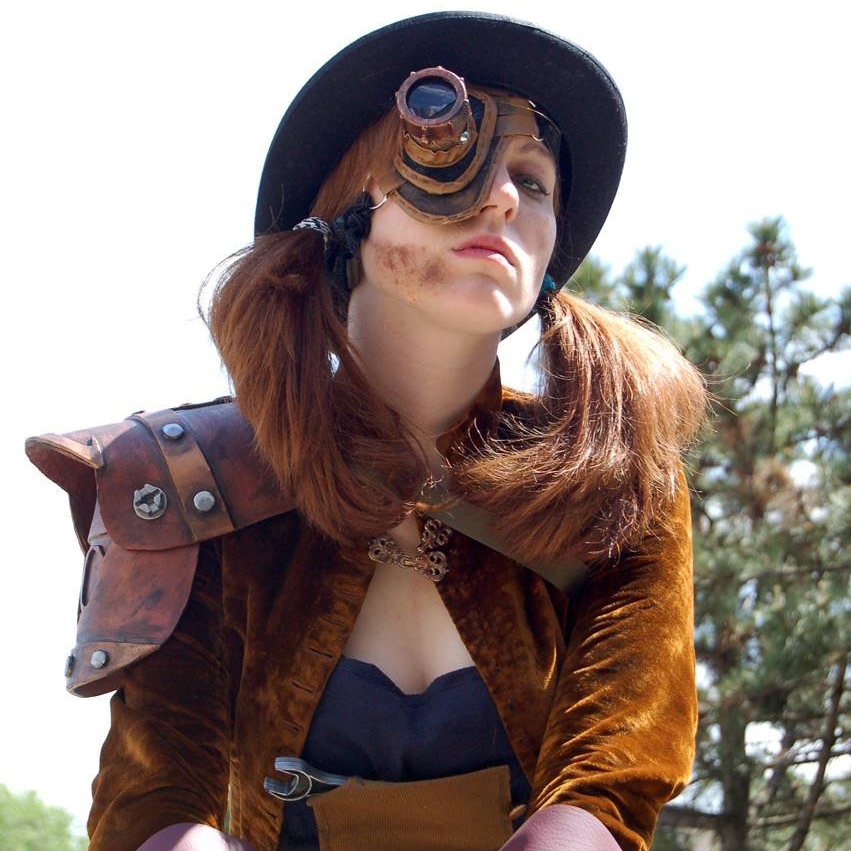 Version: Inventor
Year Made: 2008
About:
Before Nerf-gun Steampunk I wore this costume and everyone kept asking me what anime series I was from.
Concept was an inventor who had something explode on her right hand side. So she has a bad right shoulder (armored) and an eye patch that helps her see. Eye patch glows with help of a bouncy ball the twinkles when you squeeze it. All armor was made from foam.
Photos: Deathcom & Ich-Will-Dass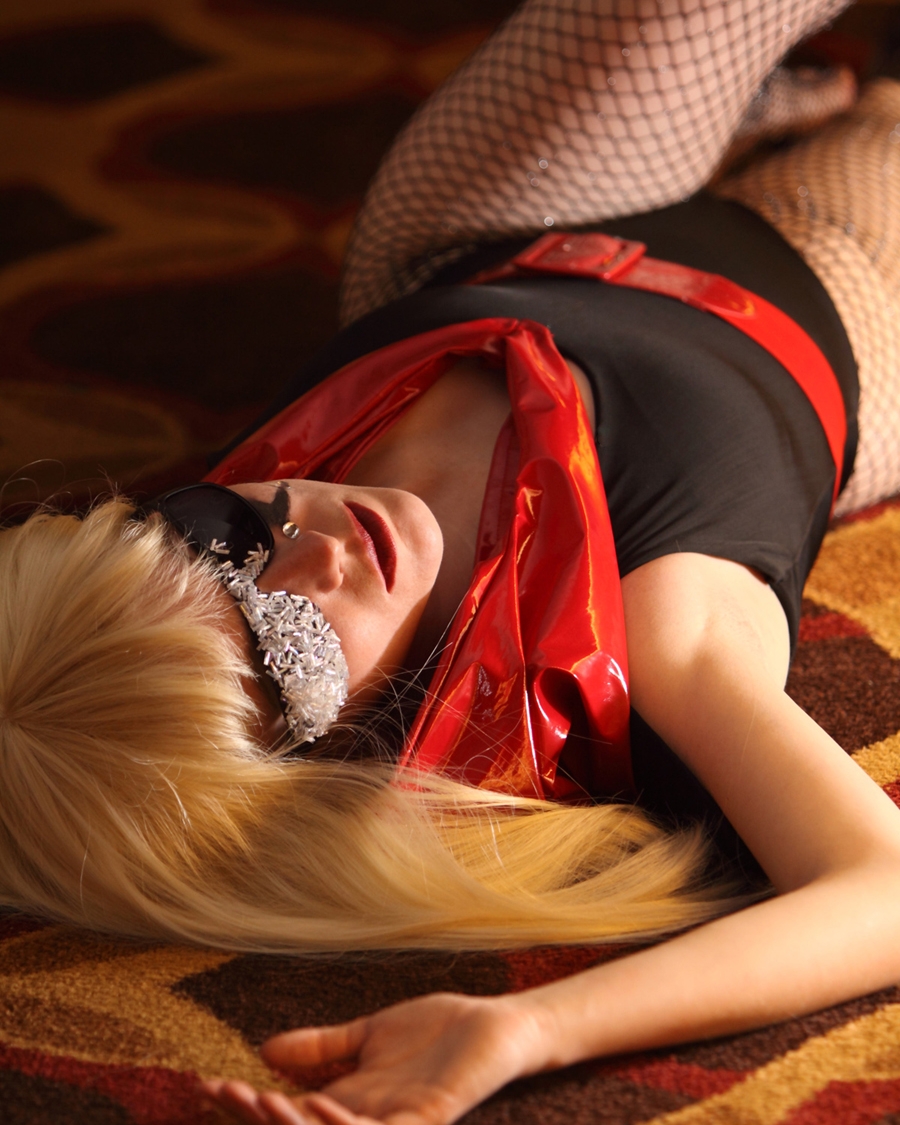 Version: Simple Very Beginning Gaga
Year Made: 2009
About:
This was the first costume I wore that my butt was out and I was called a whore twice.
Made it via buying a one piece Mickey Mouse one piece swimsuit from Goodwill, taking it apart to make it into a pattern. I was so proud of it. Fuck those slut shamers ;)
Photos: Lionboogy & Zer0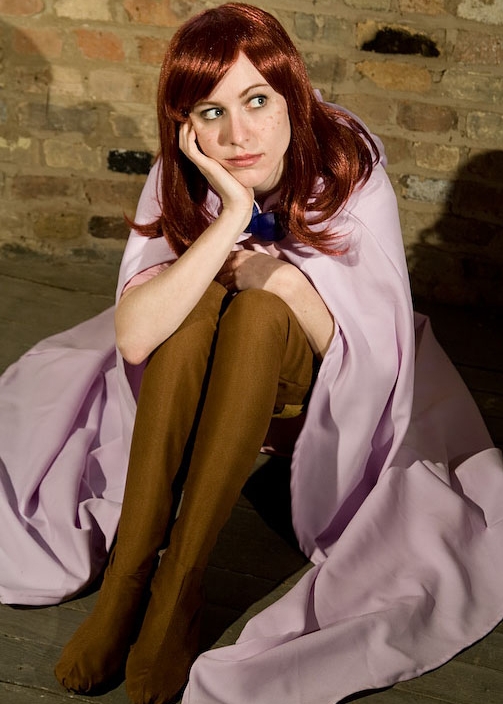 Series: Dungeon and Dragons
Year Made: 2008
About:
One of my first costumes. Dungeon & Dragons has a special place in my heart. Not only the series but the table top game. <3
Pretty simple but I was super happy with my boots and making the clasp details on the cap.
Photos: Elemental Photography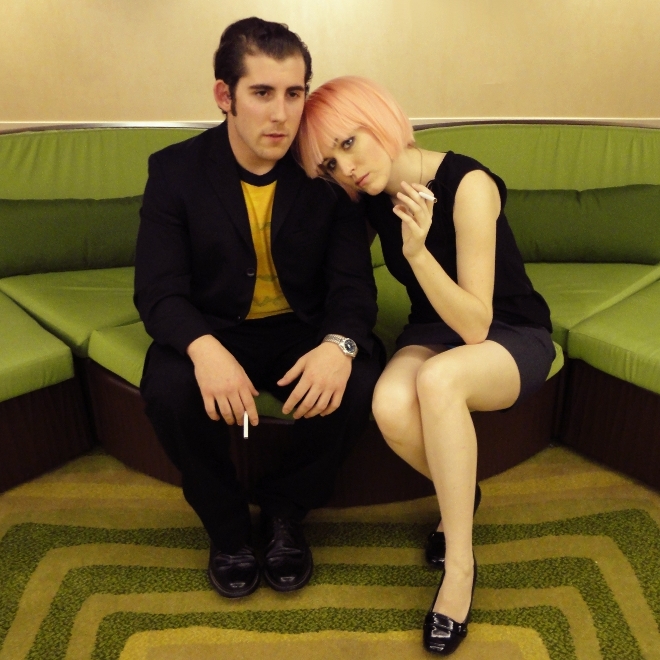 Characters: Charlotte and Bob Harris
Year Made: 2012
About:
Lost in Translation is my favorite movie. There's something about it that speak to me on an emotional level. My life always feels like its in a constant transition and watching this movie makes me feel good on bad days.
These costumes are mostly found. It just took some time to find the proper version of everything. Thank you Ed Komenda for being my Bob Harris.
Photos: Elemental Photography & Ed Komenda
Version: Gorillaz Stylo Video
Year Made: 2010
About:
Some friends were doing a Gorillaz group and they needed a Murdoc. I threw on some makeup and a closet cosplay and this happened. Eventually I made a full costume. Teeth are made with foamies.
Photos: Judy Stephens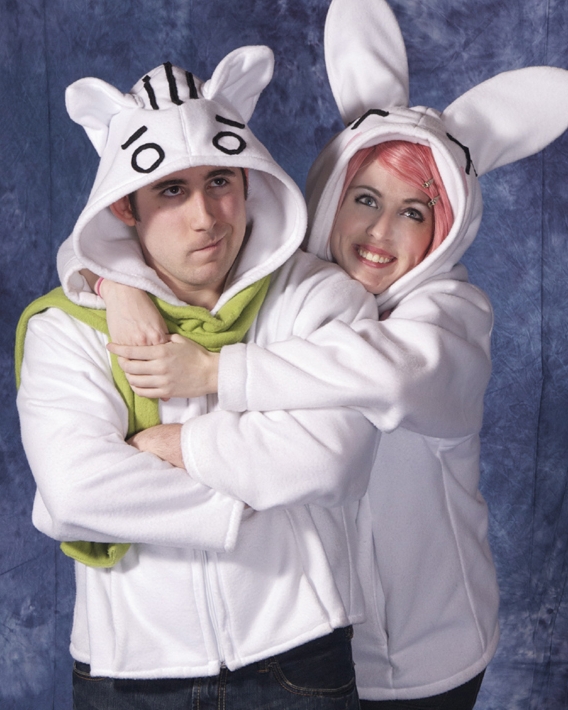 Version: Hoodies
Characters: Doki & Nabi
Year Made: 2012
About:
There She Is is by far my favorite cartoon ever created on the internet. My two favorite animals are Rabbits and Cats and I LOVE the theme. Back in the day this was an amazing feat of animation. Check it out here.
I wanted to make these hoodies so I could wear them comfortably all the time at cons when I wasn't a full costume. So they've been well loved. All made of fleece, really simple but one of my favorite casual costumes.
Photos: Ed Komenda & NakaCon Cosplay Staff
Series: Wish
Year Made: 2013
About:
My good friend Jez Roth had a wonderful idea for a skit in which an old couples kiss transformed them into what they were as young adults in love.
The entire costume was originally made very plainly so that we could dance in them. It has the beginnings of a very detailed Clamp costume, once its finished I will be sure to post more photos.
Wig is a Magnum in Fairy Blonde with an extension by Arda Wigs.
Awards: Best in Show Overall Anime Vegas 2013
Series: Silent Hill
Year Made: 2014
About:
This costume was made by Nina (Aka Mango Sirene/Fawnina) however when she went to sell it I had to get it to add to my Silent Hill costume collection.
The Robbie is an official Silent Hill Robbie Plush
Photos: Swoz
Series: Silent Hill 3
Year Made: 2013
About:
Claudia is a bad ass that eat fetuses for breakfast.
This whole outfit is made from a heavy VERY DARK BLUE twill. The wig is a mix of lacefronts in Ash Blonde from Arda Wigs. The hardest part of this costume is the hours of makeup it takes to cover my eyebrows so that it looks like I have none. Tons of Glue Sticks...
Photos: Tofu Photography, Bonk, WhiteDesertSun, Xasch
Series: Silent Hill
Year Made: 2010
About:
When I wear this costume, I can't stop saying "It was foretold by GYROMANCY!"
I made this costume because I found the tie in my attic in college. Most of the fabric was given to me or picked up at a Goodwill. The lace was the most expensive part because I bought it from Wal-Mart. And trim there is way more expensive than it needs to be.
Photos: Courtoon, Elemental, EBK, Ed Komenda
Version: Punk
Series: Silent Hill: Shattered Memories
Year Made: 2010
About:
This version of Dahlia is on my level. She named her boobs Syd and Nancy.
I had most this when I started... wonder why... I made the shirt and painted it. I made the gloves. I dyed the tights, pulled holes in them, then use clear nail polish to keep them from getting to much bigger. Some of the jewelry took a while finding the right pieces to match the in-game model. Wig is a Mahogany Magnum from Arda Wigs.
Photos: Elemental, Ed Komenda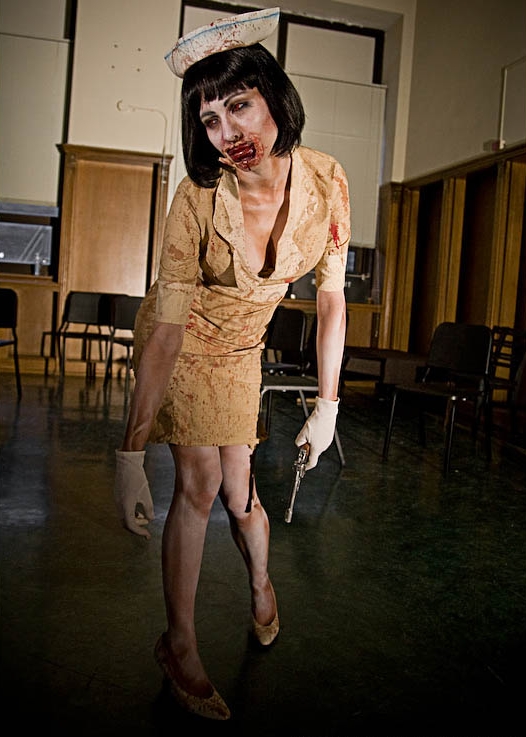 Series: Silent Hill 3
Year Made: 2009
About:
I was the biggest nerd for Elemental's photography and she asked if I had a costume to take pictures of when she drove through my town, so I spent 2 weeks slaving over this costume.
Probably the first costume I made with a pattern. I made three of them, to make sure it was perfect. The make up took 2 hours and was made with skin wax, which started to melt by the end of the shoot. The shoes are now signed by Mary Elizabeth McGlynn.
Photos: Elemental
Series: Silent Hill: Downpour
Year Made: 2012
About:
I made this costume as a surprise to go with my friend Taylor's Murphy costume. Taylor, you're my favorite cupcake.
Did a ton of research on patches. The game art looked like a mix of New York State and something in Mass. Most of this was bought from a police uniform shop. Makeup took the most time; I look like Kevin Bacon. Wig is a heavily modded Derek in Black from Arda Wigs.
Photos: Bonk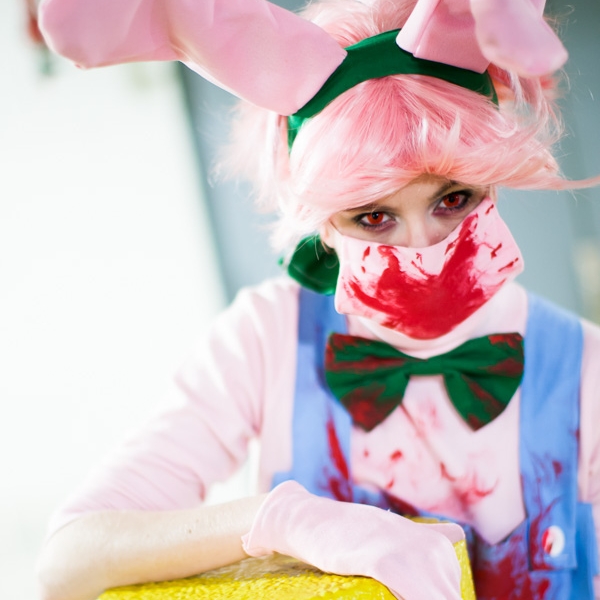 Series: Silent Hill Series
Year Made: 2009
About:
I like rabbits and I like Silent Hill.... and I like being something cute and covered in blood. BONUS COSTUME.
This costume is a circle shirt with a square sewn to it. I covered an old pair of bunny ears I had, made some mittens and covered everything in blood. Fun aside: The bottom of my pink slipper says Eileen.
Photos: LJinto, DeathCom, Xasch, Penny
Series: Silent Hill: Homecoming
Year Made: 2008
About:
I wanted to ruin my back for the rest of my life, so I decided one of my first cosplay costumes would be Siam.
The biggest part of this costume was making the harness for me to be on Daguru's back. Its made with army grade straps and clasps. The mask was patterned with ducktape and covered in DragonSkin (latex like SFX fabric like substance) The clothing was patterned to go over our harness and is not accurate for safety. I bought awesome fetish shoes that I eventually learned to walk in.
Photos: JiaJem, 4ng3l, LJinto, ShiroIn
Series: Darkest Dungeon
Year Made: 2015
About:
Cthulhu cultist covered in red, black and gold. Sign me up! The first photo was edited by the Darkest Dungeon art director, Chris Bourassa.
Shirt, or lack there of, is made from red linen. Belt is made from foam and Worbla. Mask is made from Worbla that I formed over a skeleton jello mold. I wore scleras with this costume for fun effect.
Photos: Swoz & Photosnxs
Series: Rule of Rose
Year Made: 2009
About:
Nothing is creepier than horrible little girls. I LOVED Rule of Rose. I bought it for $15 in a bargain bin, next to my Suikoden 2 purchase, this is they best game purchase I ever made.
I hand dyed most this costume myself with dye pins. I was so young... and my hands hurt so much. I did tons of research on fabric used in that time, so everything would look texturally accurate. The handkerchief was made using a shirt I cut up. I also made the mermaid doll. The boots were borrowed from the Jennifer cosplayer, Leesers. I love all the girls in these pictures like sisters.
The pictures that look like an abandon house is from an Urban Exploring shoot I did. They are in, in fact, unsafe creepy old houses.
Photos: Craig, Adam Sacasa, Elemental, Daguru
Series: Don't Starve
Year Made: 2016
About:
When I got Steam I was all about the indie game and Don't Starve is a master piece! I love the art style and I LOVE Wendy and Webber to death. Hahaha... pun.
Wendy is mostly purchased. I made the hair flower with fuschia satin. The contacts are mesh and pretty easy to see through. The wig is a Platinum Blonde Claudia from Arda Wigs, brushed out to get her big chaotic curly pigtails. The 'scrunchies' are made with flower petals I strung like beads on elastic.
Photos: Chris Herd & John M. Garrison Media
Series: Don't Starve
Year Made: 2016
About:
Webber is a little boy that didn't get eaten by the spider because he fought it from the inside and took over its body. What a story. Must make costume.
Every once in a while the need to make a mascot hits me. The head is camping foam at its core. I made the fur to go around it and stuffed the fur to get the shape. The mouth is a red mesh to look through. The teeth are made with air dry clay. The eyes are buttons and clear christmas ornaments.
Photos: Chris Herd & John M. Garrison Media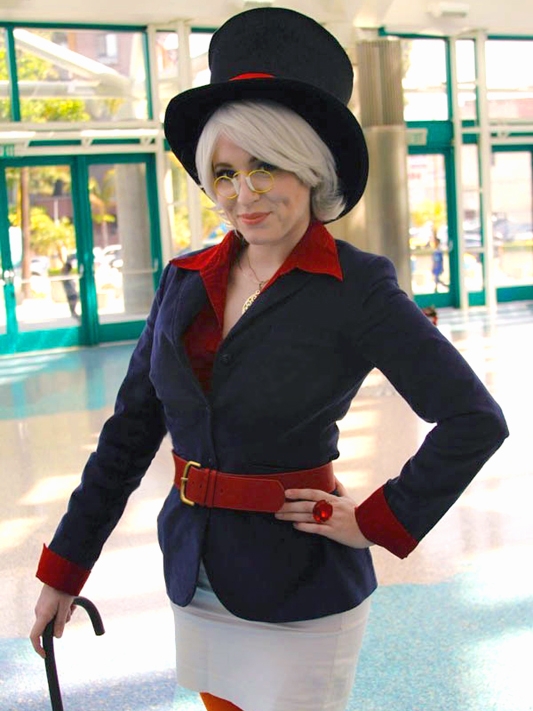 Series: Ducktales
Year Made: 2013
About:
I've been in love with Scrooge since I was little. He's amazing. I made this costume to honor the remake of the NES classic.
Mostly found and modded costume. I made a money bag for my purse. I have a ruby ring like the rubies in the game. Glasses are gold wire and medical tape. I'm still adding to this costume. Wig is a Magnum in Silver by Arda Wigs.
Photos: JetBlackAce, VThreePio, YorkInABox